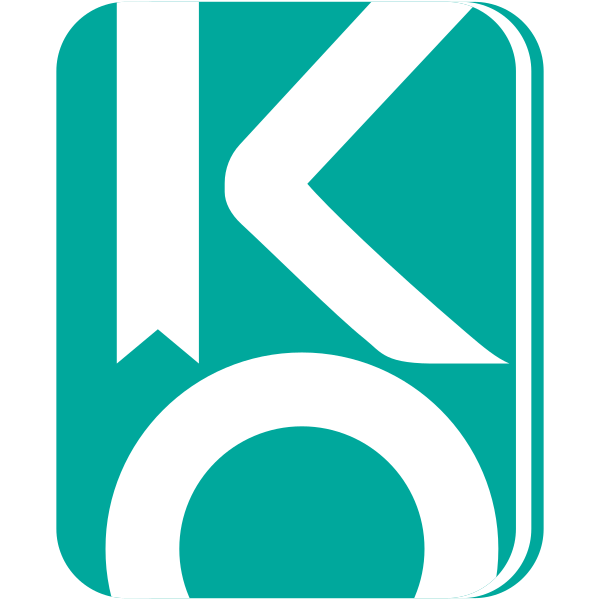 KOREADER USER GUIDE
Last Updated: 2023-10-12
---
This guide is designed for larger screens with color and contains links to relevant websites so we highly recommend reading this on a computer or a tablet (instead of your e-ink device). You can use the search function of your browser (generally Ctrl+F) to find a specific topic.
Parts of the text are color coded according to their category:
BLUE • USER INTERFACE ELEMENTS OF KOREADER
GREEN • MENU PATHS
RED • ADVANCED TOPICS, NOTES AND WARNINGS
PURPLE • EXTERNAL APPS AND SERVICES
TEAL • LINKS
KOReader is developed and supported by volunteers all around the world. You can be a part of this project too by:
Fixing bugs and implementing new features
Translating the program into your language or improving an existing translation
Helping others with your knowledge in the forums
Check

MORE INFO

section at the end for the links.
TABLE OF CONTENTS
WHAT CAN YOU DO WITH KOREADER ?
Despite its minimalistic looks, KOReader is a very powerful and customizable application. Check the list below to see what can you do with KOReader. All these features are explained in this guide.
Transferring your files
USB mass storage mode for supporting devices
Cloud storage (

Dropbox

/FTP/Webdav) with suitable accounts
KOReader can act as an SSH server, so you can use an SFTP application or your file manager to directly transfer files
With the

Calibre

plugin you can send books from your Calibre Library directly to your KOReader devices over wifi
With the News downloader plugin you can download RSS and Atom news entries to your device as HTML files
With the Wallabag plugin you can retrieve articles from your Wallabag account (a server based read-it-later service like

Pocket

)
Text adjustments
Change to landscape orientation manually or (if your device supports) automatically
Change fonts (including your own), font size, contrast, boldness, kerning, word spacing, word expansion
Change text alignment, line spacing, column layout and margins
Apply or ignore publisher styles and fonts
While reading
Highlight text with different styles, place bookmarks
Add notes using a customizable keyboard including diacritic modifiers
Invert screen colors
Take screenshots
Turn pages automatically
Track your reading statistics including reading progress, time range and calendar views
Navigating through your collection
Powerful File Browser where you can copy, move, rename, create, delete files and folders
Many options to see your books with detailed and mosaic views
Add your books to Favorites for quick access
History that shows last accessed books
Navigating through your book
Skim widget to quickly jump between pages, chapters, bookmarks
Unique Book map to see a bird's eye view of your book including all your notes and highlights
Page browser to move through pages like a film reel
Bookmarks browser to navigate between your highlights easily
Search, Lookup and Translation
Search the document by selecting or entering text (including regular expressions)
Search in your bookmarks, highlights and notes
Lookup text in

Wikipedia

or in installed dictionaries and translate it by a long-tap
Translate whole page at once between more than 130 languages
Device settings
KOReader can self update
Powerful gesture system which you can customize and expand
Create a menu with your favorite actions with Quick Menu
Dim or turn off your screen light after a set interval
Adjust frontlight/backlight level and warmth manually or automatically
Set your own screensaver from many options like random images, book cover, reading
progress etc.
Set battery charge limit alarms to prevent deep discharge/over charge
Set a memory usage alert (useful for devices for smaller memory) and optionally restart KOReader upon reaching this limit
PDF documents
Crop margins automatically or manually
Reflow documents to extract text and read easier on a small screen
Apply OCR
Different zoom types and page flow directions to read multi-column documents easily
Auto straighten tilted documents
Special Panel zoom feature for reading mangas
Advanced features
Create a QR code from your clipboard
Add your own CSS style tweaks for books
View HTML source of a selection in an EPUB document
Powerful Profiles feature to automate actions
Create and edit text files on your device
Open a terminal emulator and run commands on your device
See your CPU, memory and battery usage stats
Exporting your notes and highlights
Export your notes and highlights to your device as text, markdown, HTML, JSON or Kindle clippings format
Synchronize to online services like

Joplin

,

Readwise

and

Memos
USER INTERFACE
KOReader has a simple, mainly black and white user interface because gradients and different shades of gray can cause flashing and ghosting on e-ink screens which can degrade reading experience.
KOReader has 2 main interfaces: READING SCREEN and FILE BROWSER.
Reading Screen
READING SCREEN
has two toolbars.
TOP MENU
includes menu items related to the general usage of KOReader. You will access your books, KOReader preferences, plugins etc. here.
BOTTOM MENU
is focused on options for document formatting like font weight/size, line spacing etc. While adjusting your text appearance, you will mostly interact with the
BOTTOM MENU
.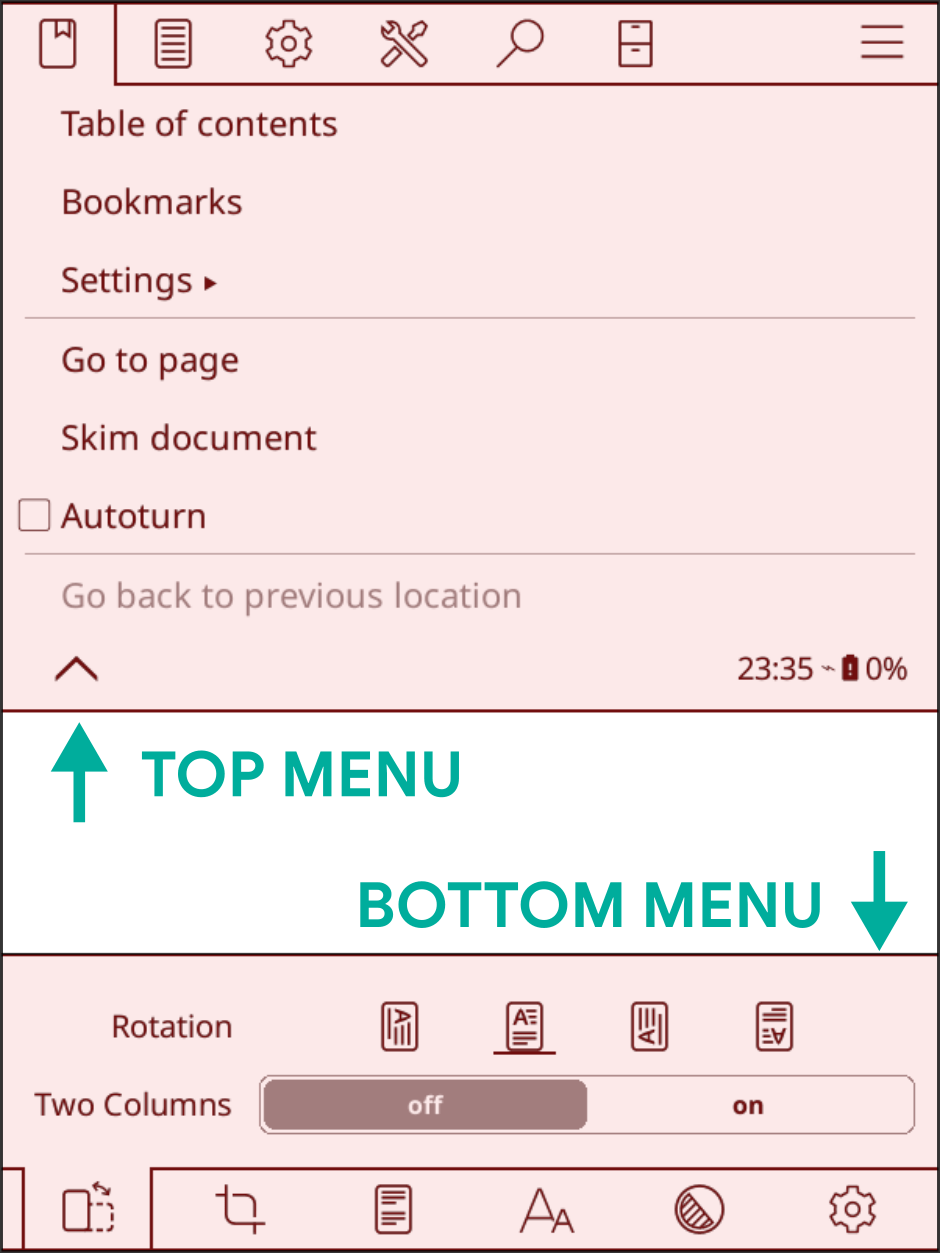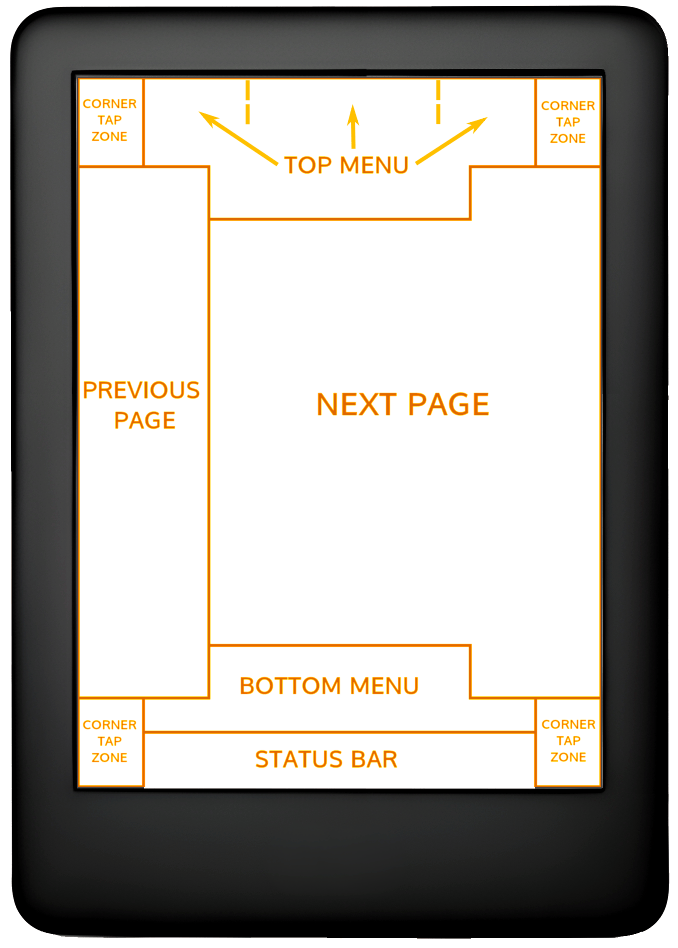 On the right you can see the default tap zones of KOReader. To show the
TOP MENU
or
BOTTOM MENU
you can tap the indicated zones. You can also swipe down the upper zone to show the
TOP MENU
. On non-touch devices like Kindle 4 you can open the
BOTTOM MENU
by pressing the button that corresponds to the
ENTER/OK
action.
You can set TOP MENU zone to open both the TOP and BOTTOM MENU at the same time via this menu:
CORNER TAP ZONES
can be used for many different type of gestures including
TAP, DOUBLE TAP, TWO FINGER TAP
and
TAP and HOLD
.
PREVIOUS PAGE and NEXT PAGE zones can also be used for DOUBLE TAP gestures at the same time.
STATUS BAR zone can be tapped to cycle between STATUS BAR items if only one item is visible. If all items are visible, tapping will show and hide the STATUS BAR. Check "How can I configure the status bar ?" heading for more info.
File Browser
You will see
FILE BROWSER
when you run KOReader for the first time. You can access it from the reading screen by: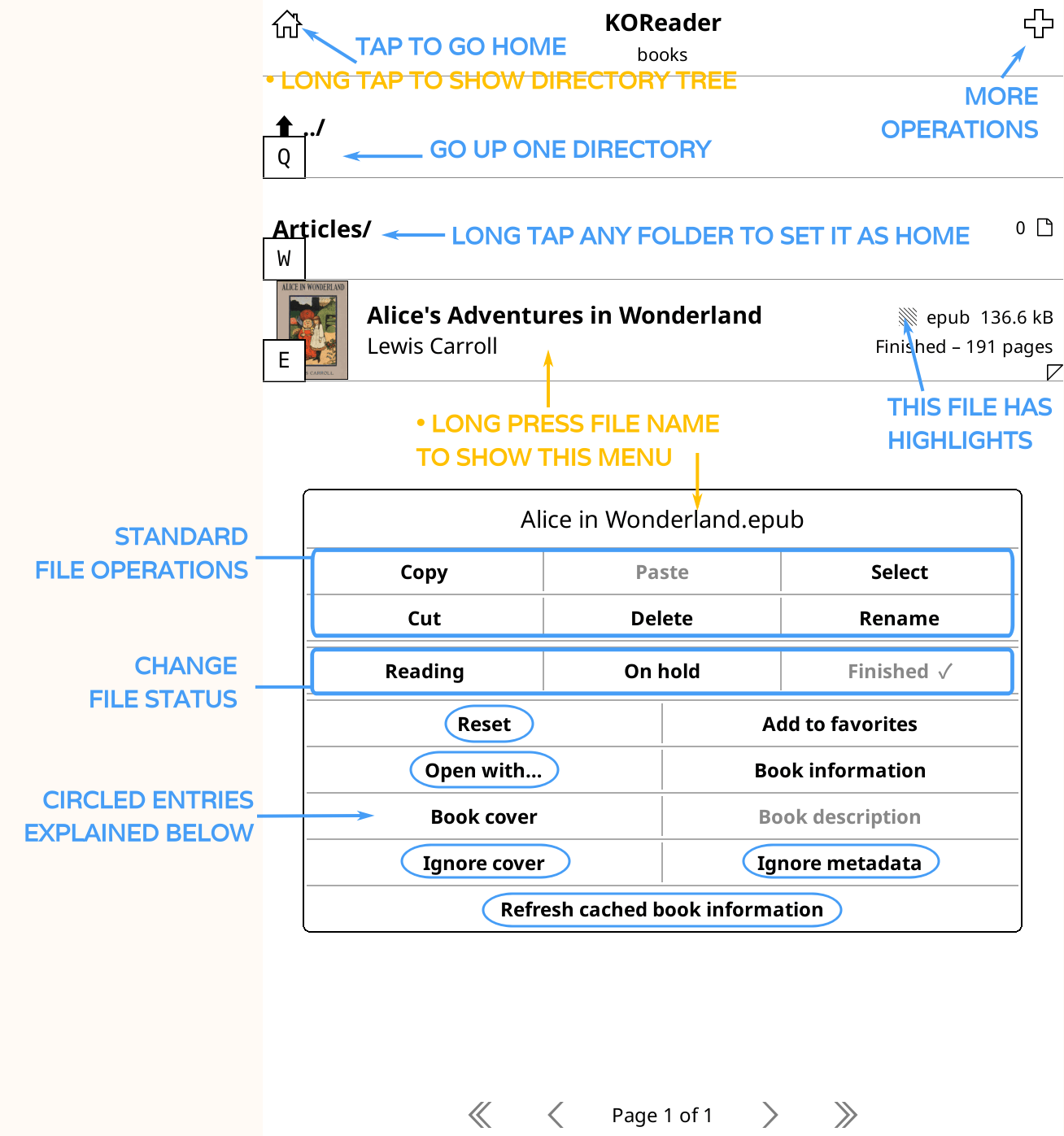 By default,
FILE BROWSER
shows your
HOME
which is your main library folder which you can change by
tapping and holding on any folder
. You can change its many options like how books are displayed or sorted via the
TOP MENU
by swiping down from the top part of the screen.
Circled items in the image are explained below:
RESET: This option basically resets your book by deleting its configuration file.

If you select this option, you will lose all your notes and highlights in this book.
OPEN WITH: KOReader has different engines for rendering different file types. In some cases you can open a file in a different engine to get some other features. See Viewing archive files and Viewing image files sections just below.
IGNORE COVER: If for some reason you want to disable the cover for this book (it may have wrong cover or cover is not very readable on the e-ink screen) you can select this.
IGNORE METADATA: If your book metadata is not correct, name field may show useless information. Select this option to show the file name instead of metadata.
REFRESH CACHED BOOK INFORMATION: KOReader caches a book's metadata and book cover when you add it to your library. If you make some changes to the book after copying to your device, this information might need to be updated. If you see wrong cover or metadata, you can refresh the book information with this menu item.
Viewing archive files
You can open ZIP, CBZ and EPUB (as they are ZIP archives too) files with the archive viewer to have a look at the contained files:
In

File Browser

long-press the file name
Tap

Open with…

Tap

Archive viewer
Viewing image files
You can open image files with the image viewer instead of opening as a book. Files opened like this don't show up in your history and have better scaling and rotation support.
In

File Browser

long-press the file name
Tap

Open with…

Tap

Image viewer
Accessing your books
Following methods are available for accessing your books and articles:
File Browser
Favorites
History
You can assign gestures for each of these dialogs. For example while reading a book, you can access your History or Favorites with a gesture and open another book without going through the File Browser.
You can also set KOReader to start with Favorites or History screen via:
User Interface Tips
KOReader's interface and options change according to the file type you open. There are mainly two types of files:
Fixed layout documents
(PDF, DJVU, image files...) and
Reflowable documents
(EPUB, HTML, DOCX, RTF, TXT…).
- You can change the interface language via:
- If you tap and hold an
option
or
menu item
(font weight, line spacing etc.), you can set its value as
DEFAULT
. The new value will only be applied to books opened from now on. Previously opened books will keep their settings. You can identify default values as a
star
(★) in the menu or as a
black border
around the indicators as seen below:


- On the BOTTOM MENU if you tap and hold an option's name, you can see its explanation.
- You can CLOSE full screen dialogs (History, Table of Contents, Bookmarks, Reading Statistics etc.) by swiping down.
- You can take a screenshot by making a long diagonal swipe with your finger.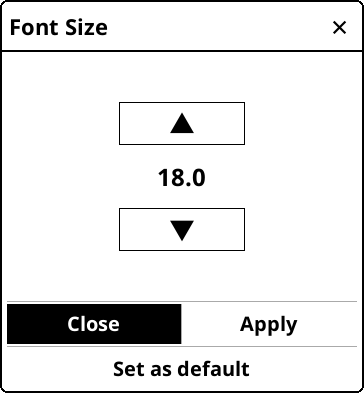 - In dialogs containing adjustment arrow buttons like the one above, you can tap and hold on arrow buttons to change the value in bigger increments.
You can CLOSE this type of dialog (non-full screen) by tapping outside of its window.
You can MOVE this type of dialog by holding its window title and dragging.
You can make this type of dialog SEMI-TRANSPARENT by tapping and holding the window title (when you want to see the text under it while adjusting a value).
KOReader supports dictionary lookup in EPUB and scanned PDF/DJVU documents. To see the dictionary definition or translation, just tap and hold a word.
- Tapping and holding a word brings up a dialog where you can also search the selection in the document for more occurrences or look it up on Wikipedia.
- If you want to change the size of user interface, there is a DPI setting for that:
You can choose a value from the menu or select CUSTOM DPI to enter a value for fine tuning: Higher DPI = Bigger Interface
Note that there is also a Zoom (dpi) setting in the bottom bar. That one is related to the documents only. You can find the explanation in the next section.
- You can disable black flashing (automatic partial refresh to clear ghosting) of user interface if it disturbs you :
- If you want to check the current date you can tap on the clock in the
TOP MENU
.
Menu search
KOReader has lots of features so its menu system reflects this complexity. We have a Menu Search feature for finding menu items quickly. You can access it from:
Also you can assign this feature to a gesture or add it to your Quick Menu for faster access.
Scrolling types
KOReader has three types of touch scrolling. You can access this from:

You have to enable
Continuous mode
from the
Bottom menu
to be able to use scrolling.
Classic scrolling: This mode works exactly like your phone/tablet scrolling.
Turbo scrolling: This mode allows you to scroll faster than classic scrolling. Also you can scroll several pages without lifting your finger. Scrolling amount is proportional to the distance you move your finger after you initiated scrolling.
On-release scrolling: This scrolling type is more suitable for e-ink screens. Because unlike other scrolling types, this mode doesn't refresh your page continuously while scrolling. It works like classic scrolling but intermediate steps are not shown. So you scroll with your finger and when you release, page jumps to that position. This is especially useful to reposition and adjust the view if your book contains pictures or tables and you want to see all of it.
Go back to previous location
This useful feature works like the
Back
button in your browser. When you jump to some other part of the book using
Skim widget, Bookmarks list, Book map
etc. KOReader remembers your previous location. This is useful for example if you follow an internal link or reference. With one tap you can go back to where you come from. You can access this feature from:
Also you can go forward too, from the same menu. This feature is assigned to ← → multiswipe gesture. You can assign this to another gesture if you want (like tapping a corner) or add it to your
Quick Menu
.
Prevent flashing on pages with images
KOReader normally perform a full refresh on pages containing images (which you can observe as a black flash). The reason is to get rid of the residue and ghosting from the previous page. But this might not be necessary depending on your device and personal preferences. You can disable this auto-refresh behavior here:
Partial rendering support
With the version 2023.03, KOReader gained partial rendering capability while reading EPUB documents. Before this version, when you made an adjustment like changing font size, the whole book had to be rendered again to be able to preview the new setting. Depending on the device and book size, this can take a while to calculate.
With this new feature, when reading EPUB documents, text appearance adjustments can be done much quicker by only rendering the current chapter.

This is only possible if your EPUB is composed of multiple fragments. EPUB files are basically .zip archives that contain .html files. Some books can be a single .html file while others may be composed of multiple .html files like each chapter of the book is a seperate .html file.
If your book is only a single .html file, partial rendering can not work, because for each change KOReader still has to calculate the whole book.
Also rotating your screen orientation is now much faster thanks to this feature. This feature is ENABLED by default. If necessary, it can be disabled per book (with a tap), or globally (with a long-tap) on:
After these partial renderings, KOReader and the book enter a degraded state: You can turn pages but some info and features may be broken or disabled (i.e. footer info, ToC, statistics…). To get back to a normal working state, KOReader has to render the rest of the book too. While this is happening, an icon at the top left corner of the screen indicates the status:
Document is

partially

rendered. Page count, footer info and many things are

innacurate

. You can see how the new settings look and adjust further. You can also turn pages, jump links in this state.
A full rendering is happening in the

background

. You can still turn pages, jump links, change settings.
Full rendering is done, but

not yet applied

because KOReader is waiting for you to be

idle

to reload the rest of the book (idle=not interacting with the device). You can still turn pages, jump links, change settings.
You've been idle for a while so KOReader is now reloading the whole document. At this step KOReader is

blocked

to prevent interaction.
When these icons are all gone, you are again in a fully working state. Generally this whole process is quick and as a user you don't need to do anything extra. You can just adjust your settings and continue reading your book, KOReader will do the rest.
Bottom Menu Items Explained

You can see an explanation of these items when you long tap on their names in the bottom menu.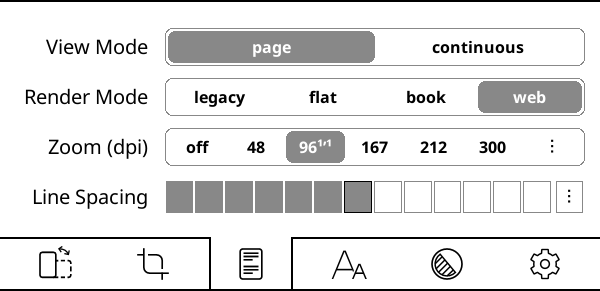 VIEW MODE:
If you change to
CONTINUOUS
mode you can scroll the document like a web page. This mode is more suitable for non e-ink screen types (LCD, OLED). In continuous mode
you lose TOP and BOTTOM MARGINS
so text may be cut on first and last line of screen. To solve this problem you can enable
PAGE OVERLAP
:
RENDER MODE:
This option determines how your document is rendered by KOReader. Default is
WEB
and generally you don't need to change this setting. When a book (or saved web page) is very complicated (specified widths or margins, negative margins, floats etc.) and layout looks bad or overflow the screen, you can try other rendering modes.
ZOOM (dpi): This setting can be thought of as a general zoom factor for the document (except font size). At 96 dpi (which is the default setting), images in the document are rendered at their original dimensions. Basically you will use this setting if you want to make images bigger without making the text bigger.
---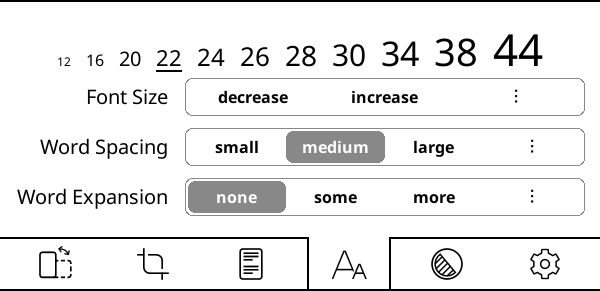 WORD SPACING and WORD EXPANSION:
These two settings are related and they determine how your text will look when it is justified. When you justify text, space is added between words so that both edges of each line are aligned with both margins. Since word counts of lines are not equal all the time, in justified alignment, text has to be compressed or expanded to fill the line.
WORD SPACING: How much the SPACE characters in a line of text can be compressed to fit more words. This setting doesn't affect words, it only changes the space between them.
WORD EXPANSION: If you have too much white space in a line, how much of that can be distributed into the words by expanding them. This setting affects the appearance of words. If you don't want your words to expand, set this to NONE.
You can experiment with different settings until the text looks pleasing to you, then set them as defaults via their respective dialogs.
---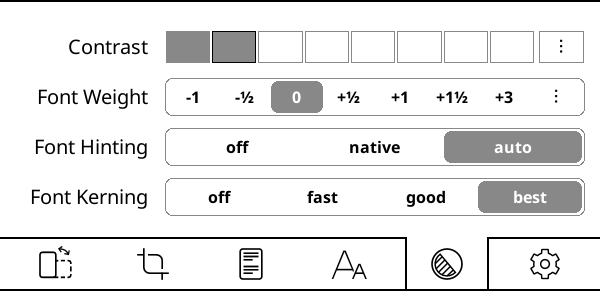 CONTRAST
and
FONT WEIGHT
are two options that you can use to make your text bolder (or lighter). You can achieve the same appearance with either of these options but they use different methods to achieve it. Of course you can use them both at the same time. The differences between them can be summarized as:
CONTRAST
+ Doesn't change font width, book length stays the same
+ Doesn't need to re-render document, faster
- Might look bad on LCD or low DPI screens
FONT WEIGHT
+ Will use proper weighted fonts if you have them installed
+ Looks better on LCD or low DPI screens
- Has to re-render fonts, slower
FONT HINTING adjusts your text for maximum readability according to your screen's pixel grid. NATIVE uses font's internal hinting instructions, AUTO uses FreeType's hinting algorithm. AUTO is a safer choice because font files that you installed may have problematic hinting instructions. Also AUTO handles CJK text better. You can try different settings to see which one looks better on your device.
FONT KERNING adjusts the spacing between letters to achieve a visually pleasing result. Default is BEST, which might be slower when opening files (depending on your device) but has better support for ligatures (see picture below for an example), joined Arabic glyphs and some other scripts. If your device is slow, you can try GOOD which is faster and may still look correct with western latin-script text.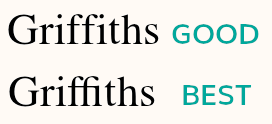 ---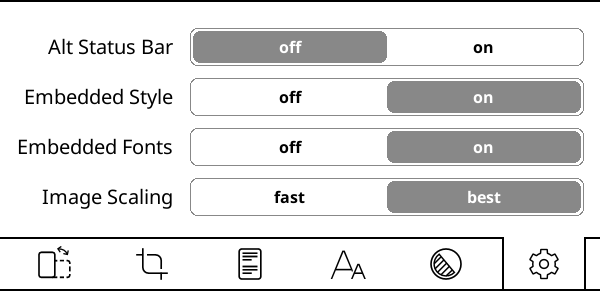 ALT STATUS BAR
enables an alternative status bar which is available only in reflowable documents (EPUB, HTML, DOCX, RTF, TXT…). After enabling it here, you can configure
ALT STATUS BAR
via:
EMBEDDED STYLE
and
EMBEDDED FONTS
determine if publisher's styles and fonts embedded in the document will be used (or ignored) to render the document. These are general on/off switches. You can achieve more fine tuned tweaks for your document via:
IMAGE SCALING
determines how images in your document are rendered.
BEST
looks more pleasing but it is slower.
Saving your text appearance settings for later use
This powerful feature allows you to save all the
BOTTOM MENU
settings + font type as a
profile
. This means you can have different group of settings for different conditions or book types which you can apply at once instead of changing the settings manually every time. For example you can create a:
Double column profile with

two columns

of small sized text,

landscape orientation

and minimum

margins

Night reading profile with

bigger sans serif font

and higher

contrast

for more visible text under low light
Disabled styles profile with

embedded style

and

embedded fonts

disabled for badly structured books
After adjusting your settings to your liking, you can create a profile from them via:
After creating a profile with your settings, you have many options for applying it to another book:
You can apply the profile from the

Profiles menu

You can assign a gesture to it
You can show it in your

Quick Menu
Please see the GESTURES, QUICK MENU AND PROFILES chapter for more information.
BASIC READING INFO
How can I personalize my text ?
You can change the font*:
Make the font bigger
Make the font bolder
Invert the colors on screen (white on black)
Change many other formatting options

*Font selection and style tweaks are available only on reflowable documents (EPUB, HTML, DOCX, RTF, TXT…). Fixed-layout documents like PDF/DJVU are not supported.
You can also change other formatting options from the BOTTOM MENU to fine tune the appearance of your text.
You can see your reading statistics via:
How can I control the backlight / frontlight of my screen ?
You can control your screen light via this menu. If you have warm lighting (normal white LEDs+orange ones) you can control them separately from this dialog. You can also define a gesture for this dialog:
How can I configure the status bar ?
You can configure bottom status bar from this menu. Feel free to explore the
SETTINGS
sub-menu to customize your status bar as you like.
There are many items you can show on the status bar. But by default, only one is shown at a time and you have to click on the status bar to cycle between them. If you want to show all items at once, enable this menu item:
You can sort the items via:
You can toggle the visibility of the status bar with a gesture or via Quick Menu:
There is also an
ALT STATUS BAR
which is available in reflowable documents (epub, html, docx, rtf, txt…). If you prefer to use this, you can enable via:
How can I change the screen displayed while sleeping ?
You can choose a book cover or a custom image as screensaver via this menu:
You can use JPG/PNG files as screensaver (properly dithered grayscale images look best). Transfer the files from your computer into any folder on your device. And choose this folder as your screensaver folder via this menu:
Please refer to this forum post for advanced information about screensaver images:
https://www.mobileread.com/forums/showpost.php?p=3728291&postcount=17
Keyboard Usage And Tips
Tap outside the input field to close the keyboard, tap the input field to show the keyboard again
Swipe up keys to enter uppercase version of that letter (or lowercase if you are already in shift mode)
You can change the appearance of the keyboard:
You can select more than one layout:
You can change between your selected layouts by tapping the icon on the keyboard
Entering extra characters
Koreader keyboard allows entering extra characters when you tap and hold a key. Most frequently used extra characters are shown below. You can tap and hold the key in the
gray box
to get the surrounding characters: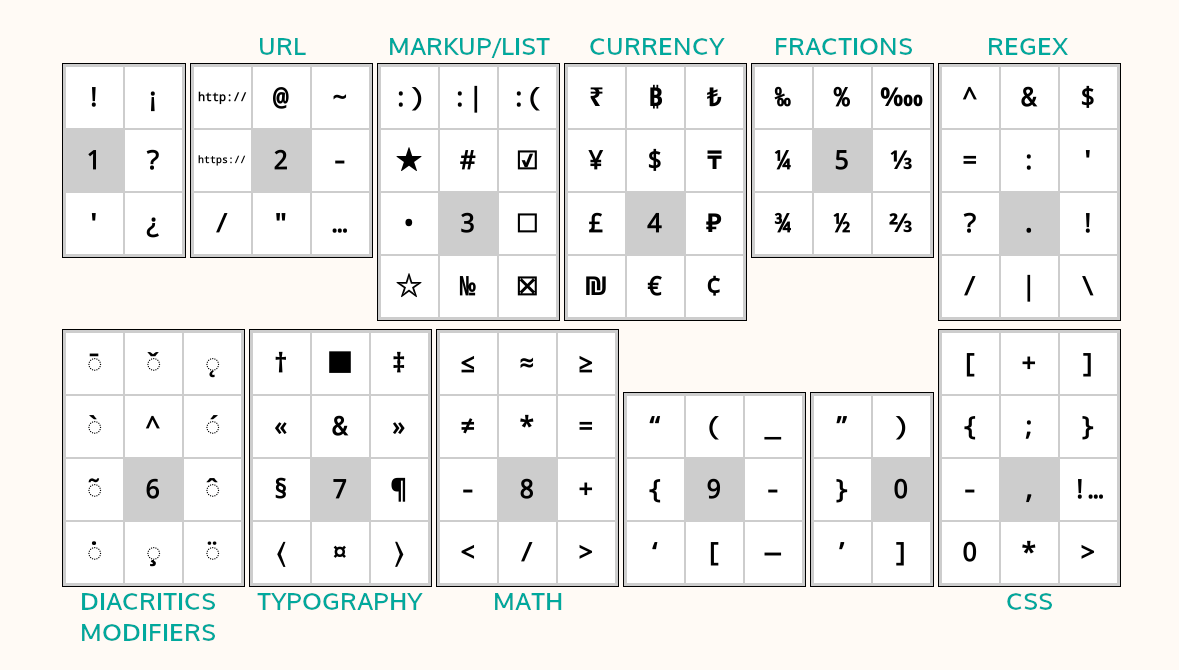 Additionally there are some shortcuts for easier text manipulation. You can tap and hold these keys for the actions:
Backspace - Deletes all characters from the cursor to the beginning of the line
Left Arrow - Moves the cursor to the beginning of the line
Right Arrow - Moves the cursor to the end of the line
For more information you can check the related wiki page:
https://github.com/koreader/koreader/wiki/Virtual-keyboard
KOReader also integrates the Chinese stroke keyboard for inputting simplified and traditional Chinese characters. You can find more info about it in our wiki:
Auto Warmth And Night Mode
This plugin allows you to adjust frontlight warmth in devices with
natural (yellow/orange) light
and set
Night Mode
(inverted screen colors –
white text on black background
) automatically according to a schedule. It can control them both or you can choose
only warmth control
or
only Night Mode control
mode, so you can adjust the other one manually.
This plugin comes enabled as default. If it is not in the menu, you can enable it via:
You can adjust the warmth of your screen frontlight automatically in two different ways:
FIXED SCHEDULE: In this mode your frontlight warmth changes according to the daily schedule you entered. This mode is STATIC, it doesn't account for daylight length. The schedule stays the same all around the year.
SUN'S POSITION: This option calculates Sun's position in your location according to COORDINATES and ALTITUDE information you entered. Frontlight warmth is adjusted gradually according to this calculated Sun position data. This mode is DYNAMIC. As the length of daylight changes around the year, plugin adjusts the schedule accordingly.
First have a look at this image to familiarize yourself with the terms used in the plugin:

Fixed Schedule Mode
Go to the plugin menu:
Tap Activate menu item and then

ACCORDING TO THE FIXED SCHEDULE

Go back to previous menu and tap

FIXED SCHEDULE SETTINGS

menu item
Set your warmth transition schedule by setting times for various items here. Refer to the image above for an explanation of items.
Sun's Position Mode
Go to the plugin menu:
Tap

ACTIVATE

menu item and then

ACCORDING TO THE SUN'S POSITION

Go back to previous menu and tap

LOCATION SETTINGS

menu item. Set your coordinates (necessary) and altitude (optional) correctly and give a name to your location.
Go back to previous menu and tap

WARMTH AND NIGHT MODE SETTINGS

menu item
Set your warmth transition schedule by setting times for various items here. Refer to the image above for an explanation of items.
You can see your current schedule via CURRENTLY ACTIVE PARAMETERS menu option.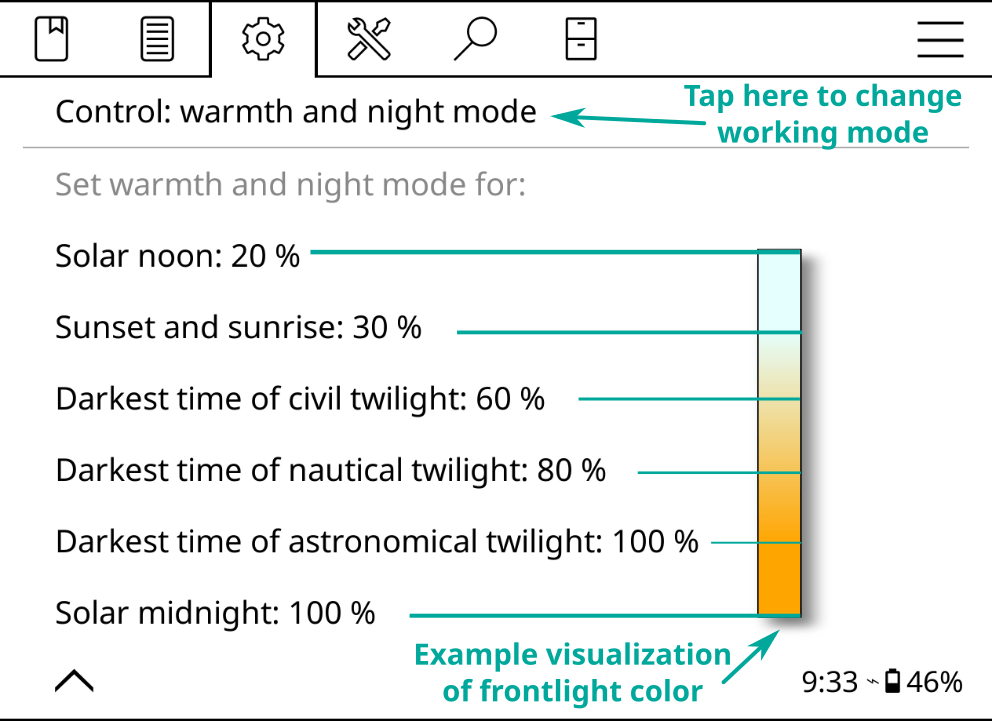 Night Mode
While setting the warm light percentages for different intervals, you can also set that interval to
Night Mode
, which inverts the screen colors when that interval starts. If your minimum frontlight is still too bright or if you prefer a dark page background, you can activate this feature. To enable this, in the dialog on the right, you can tap
Use night mode
.
When you do this, warm light percentage will increase to 110% indicating that this interval has Night Mode activated. You will see a moon icon in the menu next to this interval. To disable Night Mode you can decrease the percentage to any value under 110.
If you want to manage Night Mode manually (or the reverse) you can change the working mode of this plugin by tapping on the option shown below.
Frontlight auto on/off
This feature turns your frontlight on at sunset and turns it off at sunrise according to your
Currently active parameters
in this plugin. You can override this change by manually turning your frontlight on/off. On the next sunrise/sunset,
AutoWarmth
will toggle it again if it is necessary. You can activate it by selecting
Frontlight off during the day
menu item in this plugin.
Fonts
How can I add my own fonts ?
KOReader supports fonts in most widely used TrueType (.ttf) and OpenType formats (.otf). Font files with these extensions can be directly copied to
/koreader/fonts/
folder on your device. Check the wiki for more info:
https://github.com/koreader/koreader/wiki/Fonts
When starting up, KOReader compiles the available fonts from the font metadata/info and classifies them according to family and weights. This means you can add different weights and variants of a font and KOReader will try to use the most suitable one. Since it takes font family information from metadata, font names are not important when copying to your device. Installed fonts will be available after restarting KOReader.
You can check the Google Fonts website to get free fonts: https://fonts.google.com
Previewing the fonts on your device
KOReader can generate a document with sample text rendered with all the fonts installed on your device. This allows you to quickly compare the look and features of the fonts like ligatures and character sets in non-Latin scripts like Greek, Hebrew or Chinese. You can access this feature via:
Monospace font scale
If your book includes parts with Monospace fonts (like in programming books), Monospace font might look disproportional even if they are technically at the same size. This is caused by differing font metrics. If you want to fix this difference, KOReader has an option that allows you to adjust the relative Monospace font size.
Here you can increase or decrease the size of your Monospace font by adjusting its scaling as a percentage of the default size.
Using different fonts in one document
In HTML/CSS based documents like EPUBs, books can specify to use fonts by family instead of a specific font name. These families can be Serif, Sans-Serif, Monospace, Cursive, Fantasy, Emoji, Fang Song and Math. For example in a book, normal text can be shown in Sans-serif while dialogues are shown in Serif font. KOReader normally uses your default font for all these families except Monospace and Math (which is determined by the style of the text nodes, for example 'font-family: serif'). If you want these families to look distinct, you can assign specific fonts for them here:
To change a family font for the current book just tap on the desired font name. If you want to set this for all your books, long-tap to set it as a Default (★). If a book abuses this font family feature to the point where your default font is hardly used, you can disable that family font for this book by unchecking the association.

MOVING THROUGH YOUR BOOK
There are many different ways of moving through your document in KOReader.
You can use the SKIM WIDGET, BOOK MAP or PAGE BROWSER features.
Skim Widget
You can also open this widget with a long-tap on the
Status Bar
in addition to: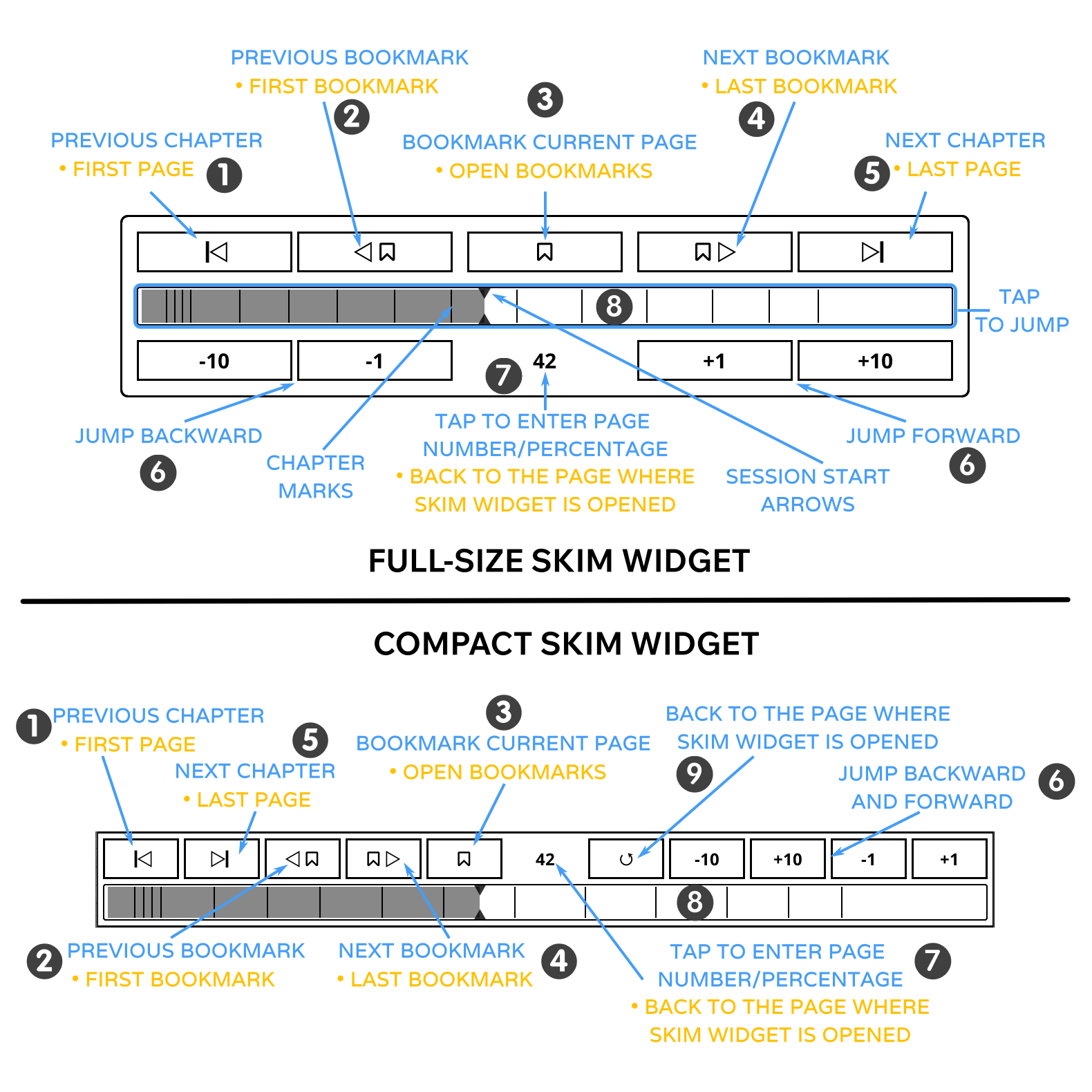 Chapter Marks
KOReader can show chapter boundaries from your documents on the
SKIM WIDGET
and
PROGRESS BAR
.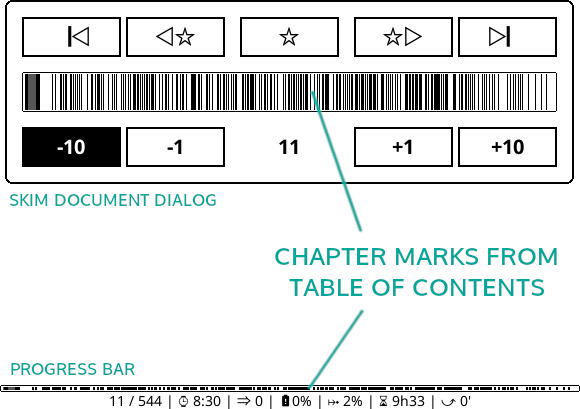 If your document has too many heading levels, your chapter marks can look crowded like the example on the left. You can change the depth of visible ToC mark levels via: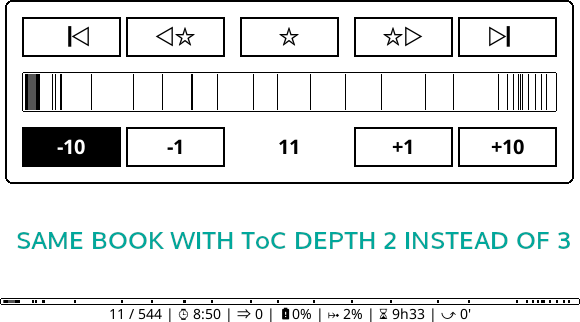 You can also use this reduced ToC for:
chapter titles (if it is shown on

Status Bar

)
chapter navigation
reading time left estimates
These options are in the same menu.
If your document doesn't have a Table of Contents, you can enable ALTERNATIVE TABLE OF CONTENTS. When this setting is enabled, KOReader will build a ToC from document headings (if available) or from individual HTML files in the EPUB. Long-tap the menu item for extra info:
Book Map
Book map is a powerful and unique feature of KOReader which can be very useful for getting an overview of a book. For example if you are reading a book non-linearly by skipping some parts to read them later, it would be hard to track your progress. Book Map can show you which parts of the book you have already read, at a glance.
Additionally you can:
See how much time you have spent on each page (if

Reading Statistics

plugin is enabled)
Check which pages have bookmark, highlights and notes
Navigate directly to any part of the book like the

SKIM WIDGET
You can access Book Map via menu and you can also assign a gesture for quicker access:
User Interface And Controls
When you open the
Book Map
first time while reading a book, it will be in
Grid View
mode, fitting all chapters on a single screen to give the best initial overview of the book's content. To get a detailed information about usage, tap the info icon at the upper left corner. You can close the Book Map by clicking
X
on the upper right corner or with any multiswipe gesture (
UP-DOWN, LEFT-RIGHT
etc.).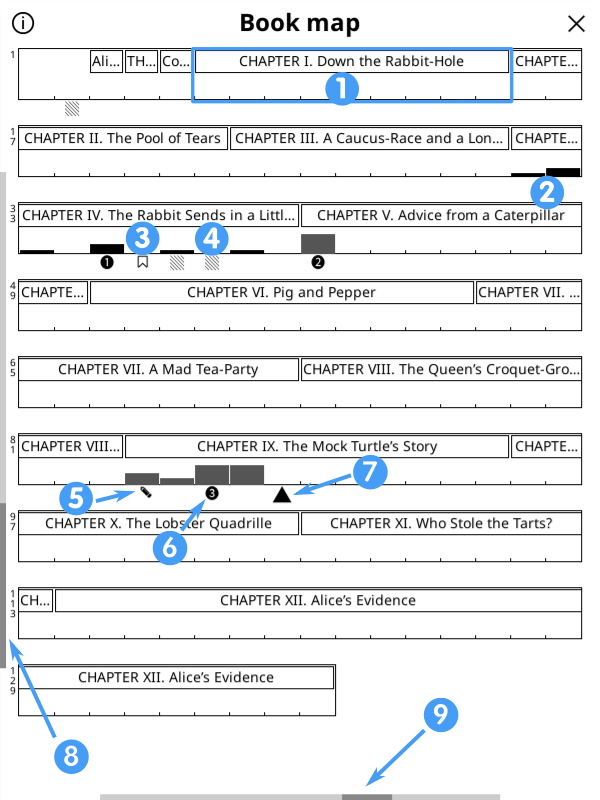 You can customize
Book Map
by changing these options:
- First try swiping LEFT and RIGHT along the bottom edge of the screen to change width of columns indicating pages and observe how it changes the scale of map
- Then try swiping UP and DOWN along the left edge of the screen to change chapter title depth and switch to the Flat View. See examples below.
In addition to default Grid View above, here you can see the Flat View on the left and Grid View without chapter titles on the right. Note the changing left vertical scrollbar between views. If you want to switch back to the default view, you can long-press the info icon at the upper left corner.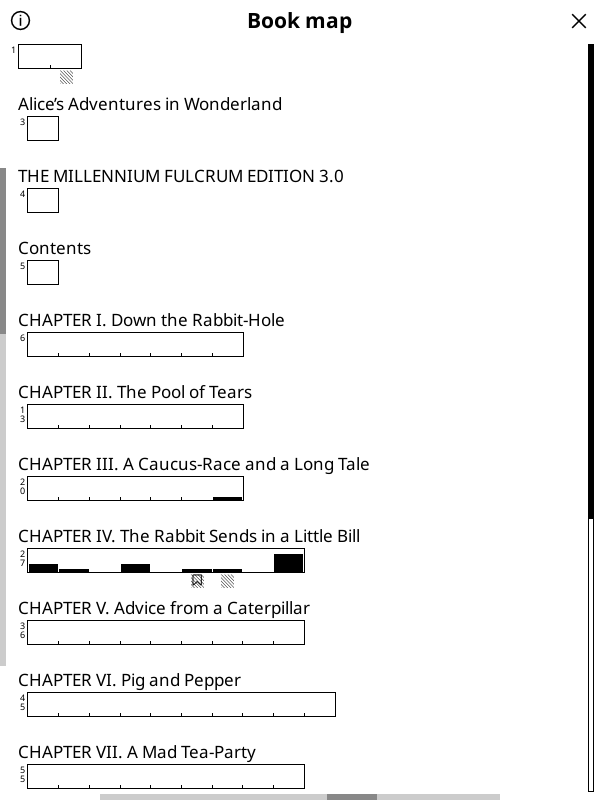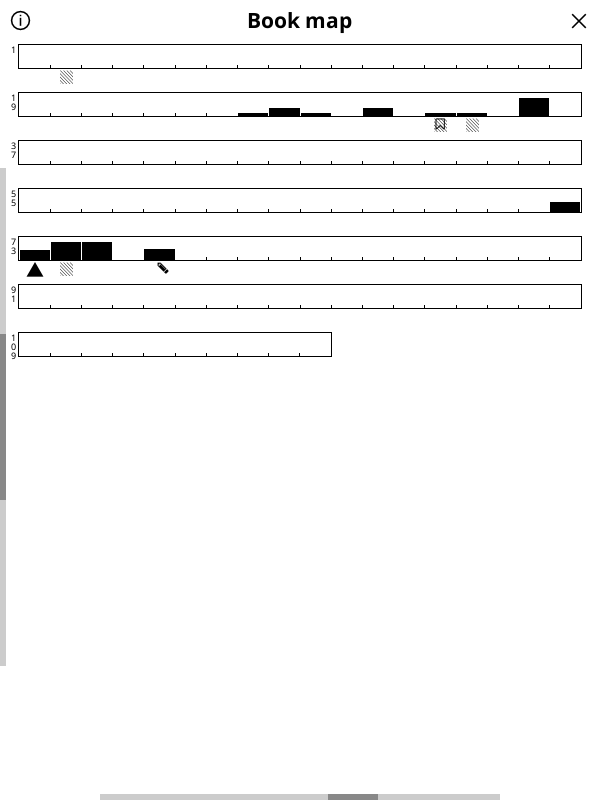 Book map options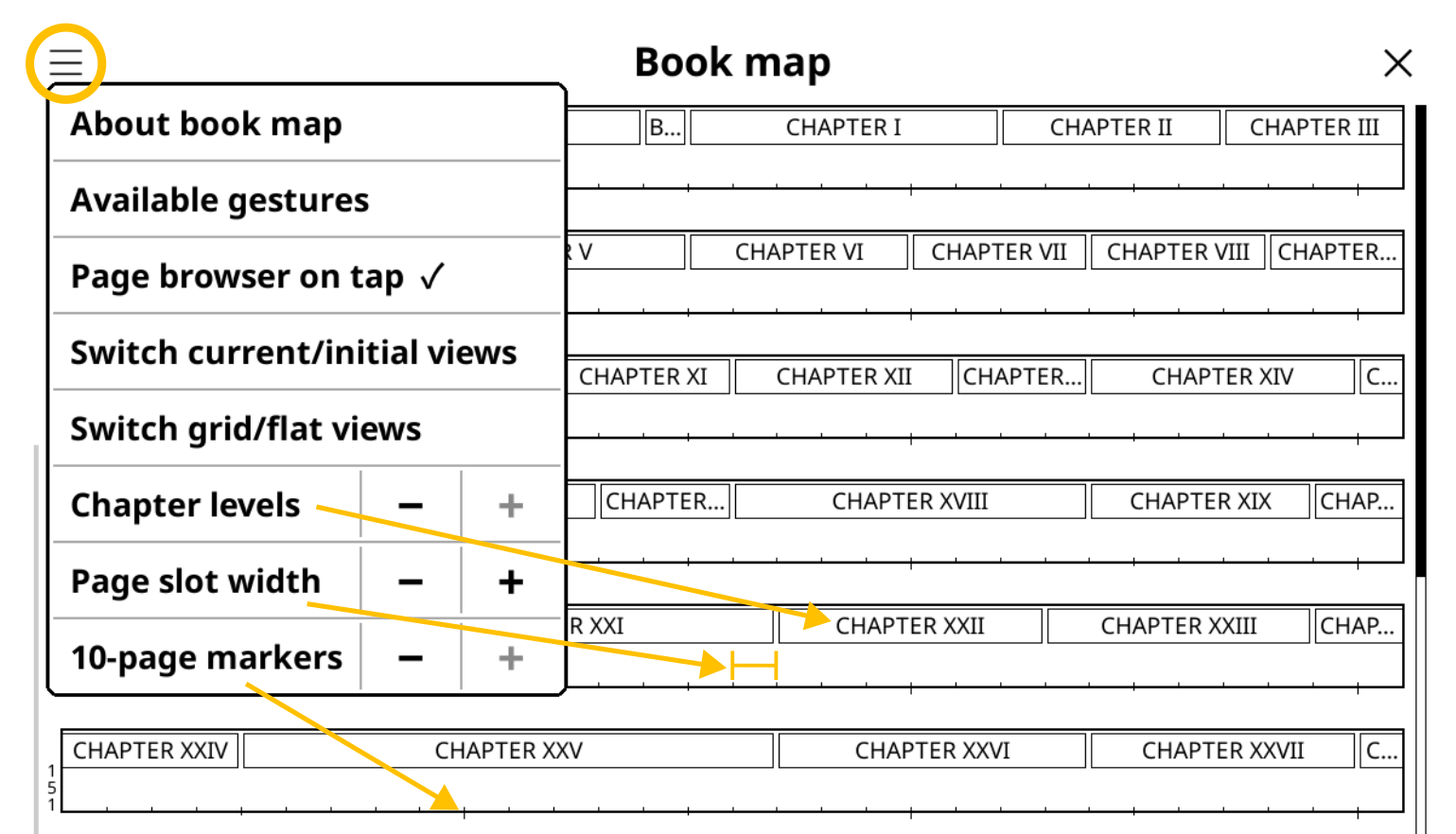 When you tap the menu icon on the
Book map
screen you are presented with the menu above. Menu options are explained below:
Page Browser
Page Browser can be used to navigate between pages like in a photo album by showing thumbnails of the pages as a grid. You can open
Page Browser
by tapping on the
Book Map
or from the menu. You can also assign a gesture for quick access. You can change the number of pages shown by swiping along the
TOP
and
LEFT
sides of screen. Icons on the bottom are the same as
Book Map
. Actually the bottom part is a linear version of the
Book Map
.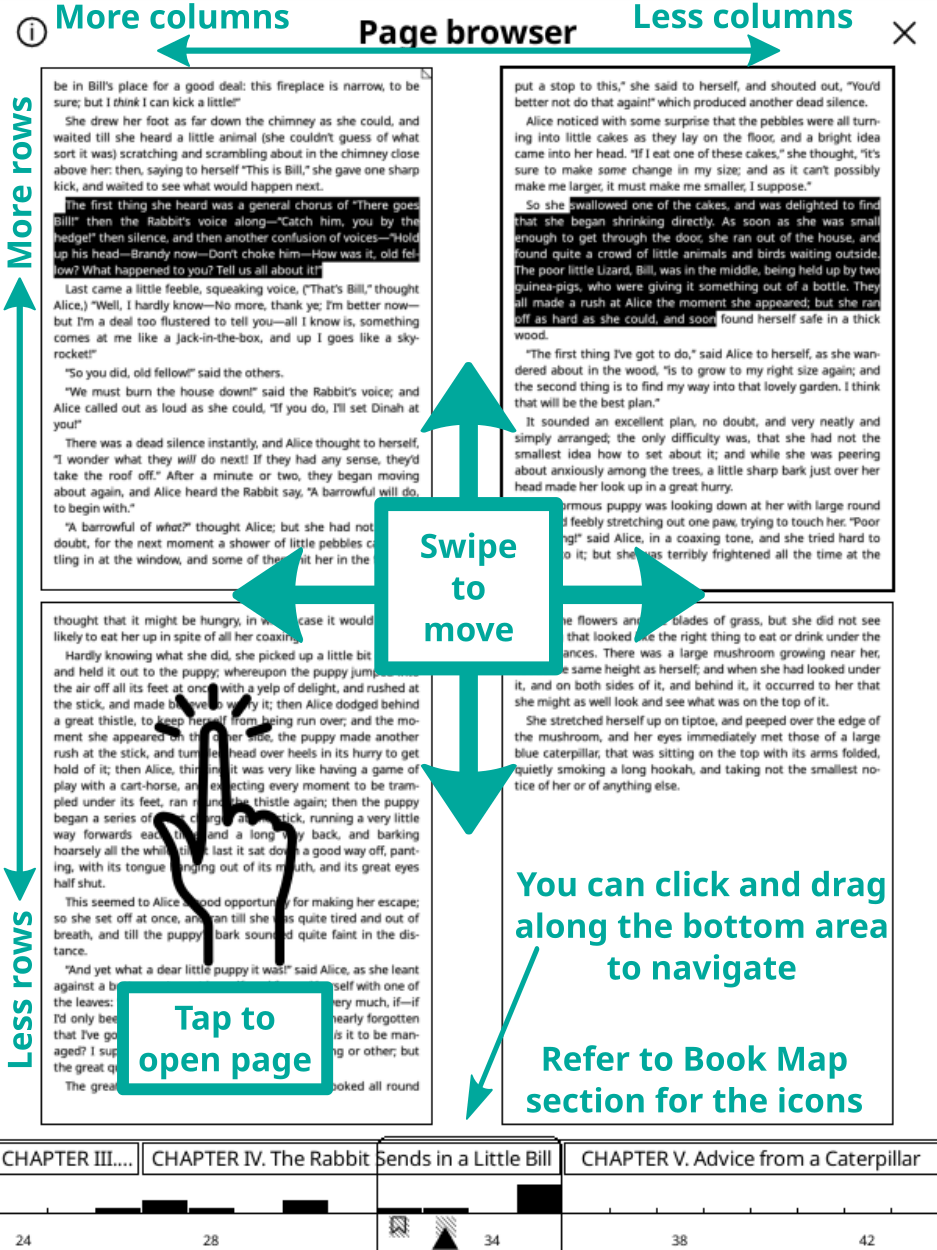 BOOKMARKS, HIGHLIGHTING AND NOTES
KOReader gives you options to interact with your book like you can do with a real book:
Bookmarks: You can add (and remove) a bookmark by pressing the upper right corner. This is the equivalent of folding the corner of a page on a real book and shows a similar icon when you enable it.
Highlights: You can highlight text in 4 different styles. In the image below, you can see a normal paragraph followed by different styles of highlights. Lighten (with gray background), Underline, Strikeout and Invert.
You can use all these styles at the same time, like they are different colored highlight markers. Or you can decide your favorite style and set it as default from this menu by long pressing:
Notes:
You can also add notes to your highlights. Just tap on a highlight and choose
Add note
from the popup menu. You can also choose a
Note marker
that shows which highlights contain a note. There are three styles:
Underline, Side line
and
Side mark
(which is the pencil icon shown on the right side of the picture below):

To enable this feature and choose a
Note marker
style, go to:
How to highlight
KOReader has two highlighting modes for different use cases:
Normal mode is similar to selecting a text with your finger on a phone/tablet and more suitable if your highlights are shorter than one page.
Select and highlight mode is more suitable for highlighting longer passages which cross page boundaries. It might also work better if you have touch screen sensitivity problems or motor control issues with your hands. Because in this highlight mode you don't need to drag your finger along the screen.
Normal mode
This mode is similar to selecting a text with your finger on a phone/tablet.
Long-press on the starting word
Move your finger to the end of the passage
Release finger
If you reach page boundaries, KOReader will turn the page for you to continue highlighting
(only in EPUB/HTML documents)
.
Select and highlight mode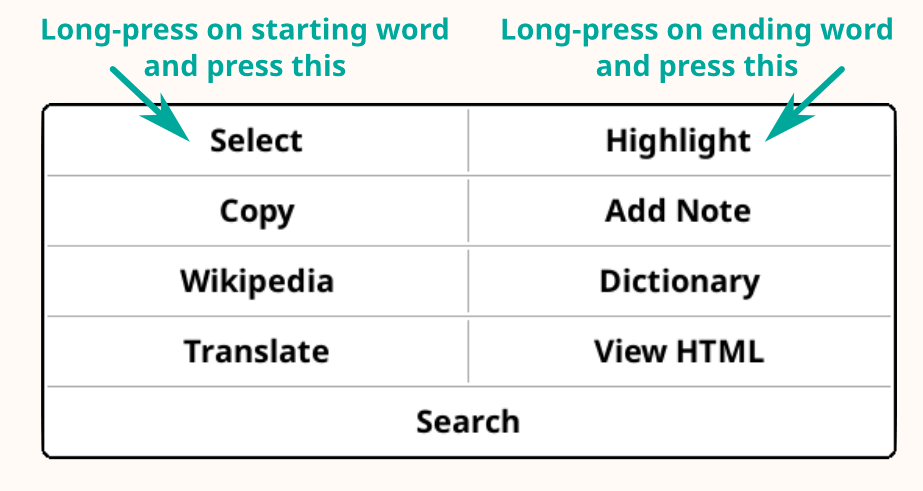 Long-press (or drag if dictionary lookup is enabled as described above) on the starting word, popup menu will show up.
Tap on

Select

, now you are in highlighting mode. When you are in this mode, you will see an indicator at the upper left corner of the screen (which you can tap on it to get more information). You can cancel highlighting by tapping on the beginning of highlight again. You can turn pages with taps/swipes and freely navigate the document (TOC, skim etc) in this mode.
Long-press (or drag if dictionary lookup is enabled as described above) on the ending word for your highlight, menu will show up again.
Tap

Highlight

this time to finish highlighting the passage.
Selecting punctuation
Editing a highlight
Exporting your highlights
1. Export Highlights plugin
2. Using KoHighlights
3. Using Calibre
READING PDFS
Reading large PDFs on a small screen
Explanations Of Pdf Specific Bottom Menu Items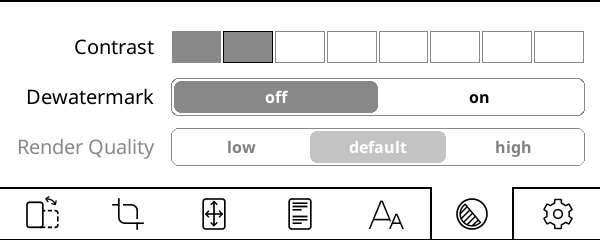 OCR (Optical Character Recognition)
Panel Zoom (manga/comic)
GESTURES AND KEYBOARD SHORTCUTS
Predefined Gestures
This table shows the gestures available when you install KOReader for the first time. You can change these gestures according to your preferences via:
Gesture Categories
Keyboard Shortcuts
QUICK MENU AND PROFILES
Easy method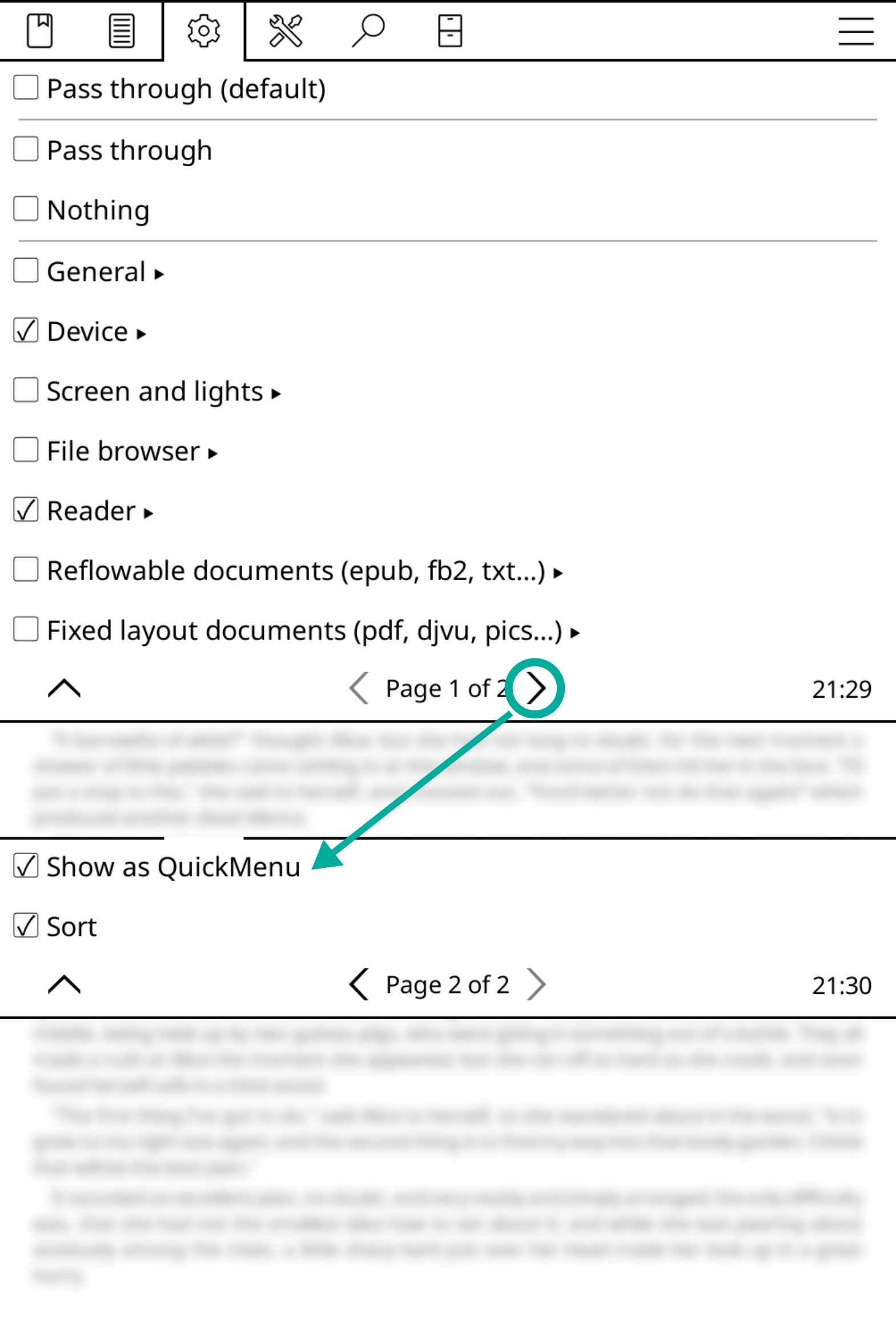 Advanced method
Profiles
Creating a profile
Activating a profile
PLUGINS AND USER PATCHES
Plugin types
Plugins are small programs that expand the capabilities of KOReader. You can think of them like browser add-ons. KOReader has 3 categories of plugins:
Internal
List of internal plugins
PREPARING AND TRANSFERRING YOUR DOCUMENTS
Transferring books to your reader
Optimizing EPUB/PDF documents for your mobile reader device
ZIP file support
Optimizing manga for your mobile reader device
Advanced preparation of manga
Immersive mode in KOReader
TIPS
TROUBLESHOOTING
MORE INFO
How to reach us about problems or suggestions
You can also . . .